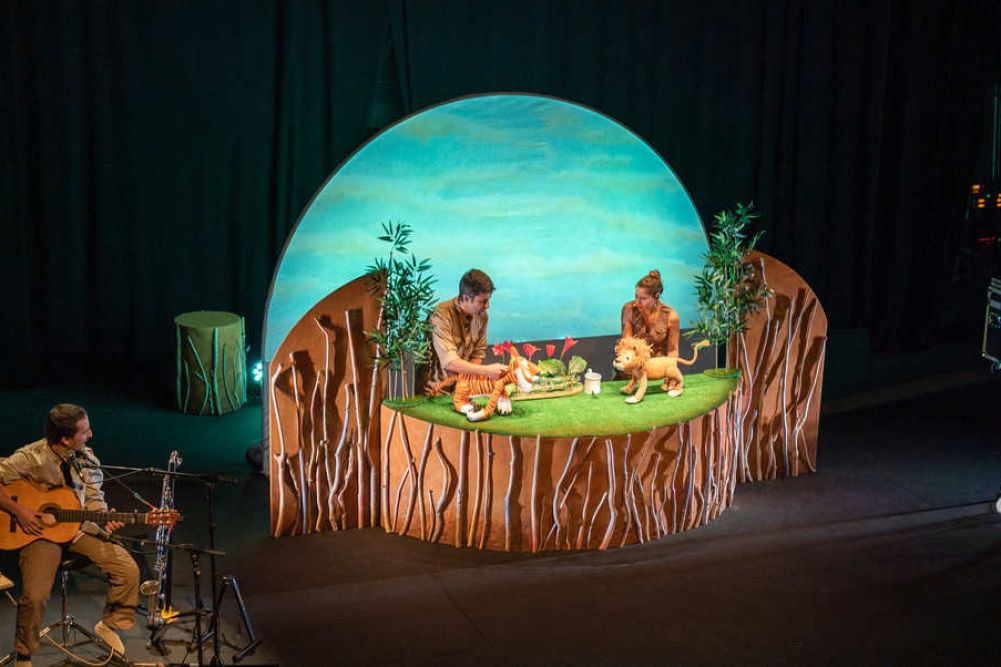 Puppets and live music to closely accompany the bashful Lion to live his adventures
An exciting and fun trip to discover the emotions of one of the most emblematic characters of El Pot Petit: the shameful Lion.
The Lion will meet the tiger, the horse, the hippopotamus and the rooster, among others. Together they will experience emotions such as fear, joy, sadness or anger, accepting them, sharing them and, above all, helping each other when these emotions are difficult to manage.
Attention!
This show won't take place in the city of Igualada, but in the Centre Polivalent de Can Papasseit in Vilanova del Camí.
Fitxa artística
Dramaturgy and direction: Ruth Garcia Ruz and Helena Bagué Vilà
Puppeteers and singers: Mercè Munné Parera (Juna) and Ovidi Llorente Saguer (Pol)
Interpretation and musical composition: Dani Lopez Pradas
Scenography and puppets: Martí Doy
Costume design: CarmePuigdevalliPlantéS
Sound design: Marc Usano Pujol
Light design: Sergi Torns Martinez
Coneix la companyia
A music group focused on the creation and artistic production for family audiences founded in 2009. Using a musical language with a repertoire of their own creation, they produce shows and concerts that combine music with puppets, theater and humor. Their songs and shows, along with videos and illustrated stories, shape the magical imagination of El Pot Petit.
More than 1.000 concerts, more than 20.000 copies sold their four albums, more than 75 million views on their YouTube channel, and 7 editions of the first book they published in 2019 based on the story of one of their songs.
Among the recognitions for their work and trajectory, highlight the Arc Award 2019 for the Best Tour Adapted for Family Audiences and the Enderrock Award 2020 for Best Album for 'El Pot Petit - 10 anys'.