What is Mostra Igualada?
Mostra Igualada is the reference fair for the performing arts for children and young audiences in Catalonia
A great showcase for the best shows for children and young audiences, which annually brings together around 30,000 spectators and more than 1,000 professionals to Igualada (60 km from Barcelona).
Mostra Igualada, a strategic market in Catalonia since 2013
A place for meeting, exchanging information and establishing contacts between the different agents operating in the performing arts sector for all audiences.
A fair focused on the dissemination of children's and youth shows in order to promote its inclusion on Catalan and Spanish councils' programations, also facilitating the internationalization of Catalan theatre companies.
A fair with a history of more than 30 years with its roots on civil society
First Mostra was held in Igualada on 1990 promoted by Moviment Rialles de Catalunya, a NGO born in 1972 in Terrassa to promote local volunteer groups to organize child and youth shows at every population.
Apart from 1991 (Terrassa) and 1992 (Sabadell), each Mostra edition was held in Igualada. 
In 1995, some fifty of these local volunteer groups from all around Catalonia formed the Fundació Xarxa, becoming the year later the main organizers of La Mostra d'Igualada.
Also in 1996, Rialles started celebrating its own Mostra in Cerdanyola del Vallès.
Finally in 2006, both Catalan fairs focused on child and youth audiences (Igualada and Cerdanyola del Vallès) were unified by the will of the Institut Català de les Indústries Culturals (ICIC), supported by the Igualada city council, Fundació Xarxa and Agrupació Rialles.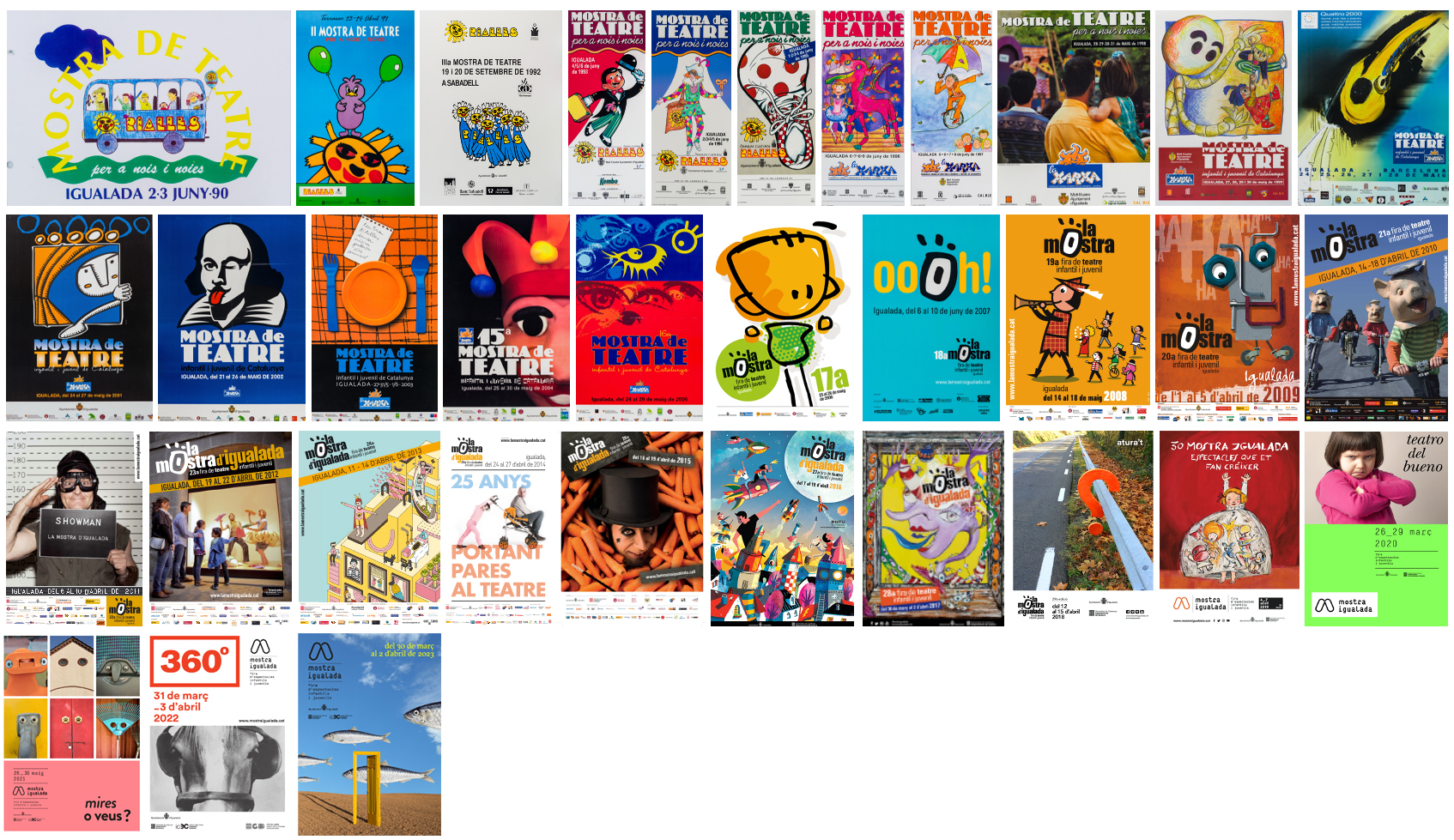 The artistic programming of Mostra Igualada
Quality, contemporaneity, originality, ability to incorporate new languages and staging in unconventional espaces
A wide artistic variety responding to the production and demand of the sector. 
All artistic genres (theater, circus, dance, clown, puppet, music, magic, installations, etc.) have their place, both on stages or on the street. Most companies are Catalan, but also Spanish and international groups performs in Mostra Igualada. 
The Fair of Professionals of Mostra Igualada
Located on the trusses of the Leather Museum, Mostra's professional area is a space for presentations, catering service and various work points. Every year a series of parallel activities take place, such as conferences, dynamics, working tables, agreed or informal meetings, which foster relations among different agents within the sector.
Volunteers, our key part
Born from volunteering, Mostra Igualada is still possible year after year thanks to its implication
La Mostra coordinates a hundred volunteers who actively participate during the days of the fair, carrying out production and organization tasks such as space control, customer service, preparation and distribution of materials, among others.
On the other hand, every year more than 50 welcoming families provide accommodation to the companies and professionals attending. Due to the limited hotel offer in the area, their hospitality and commitment is essential.