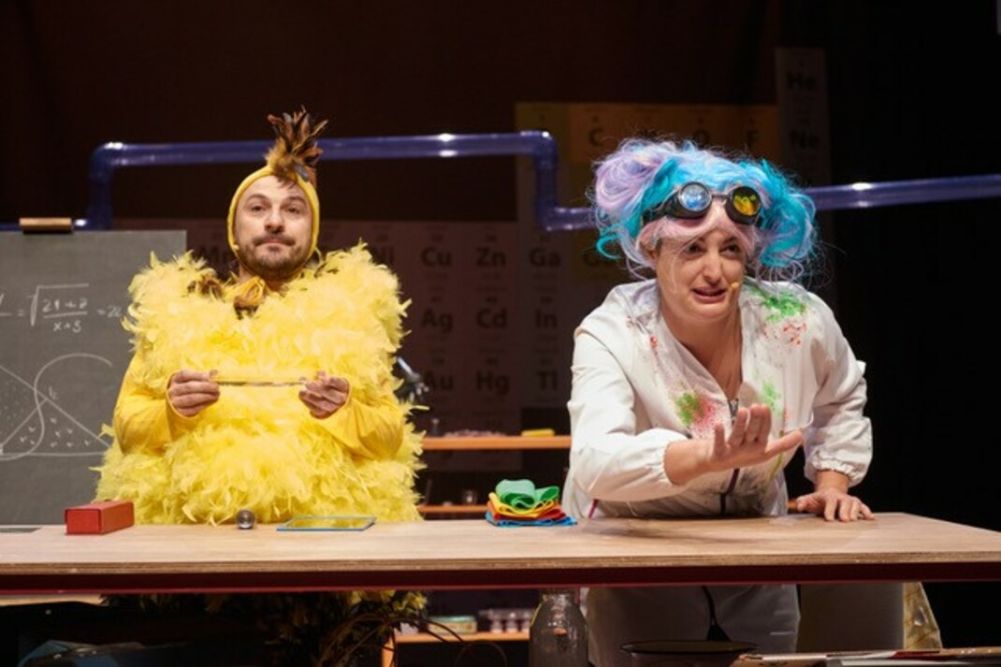 Why do we need to know?No question unanswered, so test Valentina!
Why, if we live in a society that seeks for the equality of men and women, there are so few recognized scientific women? Why do we have so many unanswered curiosities? Why is the world we live in so fascinating??!
If you want to solve these questions, if you are one of those whose curiosity goes out of your ears or you just want to discover what is happening to Valentina's head, open the doors to her lab!
Because a show can teach you more than you think.
Fitxa artística
Dramaturgy and direction: Anna Roca
Performers: Anna Aumatell and Raúl Martínez
Assistant Director: Jordi Gilabert
Scenography design: Lluís Nadal "Koko"
Costume design: Nidia Tusal
Sound and light design: August Viladomat
Sound space and music: Marta Rius
Scientific advice: Joel Nadal
Coneix la companyia
Born in 1996 with 'Contes de l'Anna', a huge success followed by performances every time more and more dramatized: 'Contes al terrat', 'Can Pere Petit', 'Quan Jo era Petita', 'Conten cinc', 'Les sabates noves de l'emperador' i 'La granja més petita del món'. In 2010, 'Captius' was their first performance for adult audience. In 2015, they changed the genre with 'Momo'.