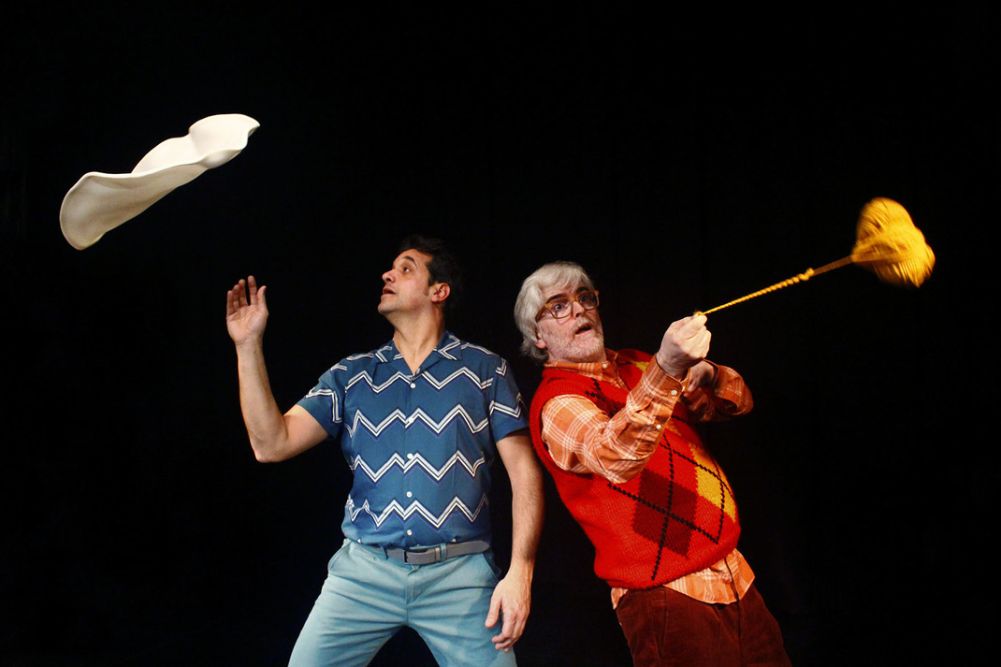 Interplanetary relationships, human orbits, science, poetry and humor
Two boys and a girl spend their hours playing "martian adventures". The universe is part of their game, just as we all are part of the universe. However, one day their orbits split up. Years go by. Now, they are adults. She is about to make the dream that them three had together come true: travel to the space. She doesn't want to leave without saying goodbye. They want to say goodbye before she leaves.
Meeting again or not, memories come back, games return, stars make impossible constellations again.
Fitxa artística
Creation: Jordi Farrés, Pep Farrés and Jordi Palet
Direction and dramaturgy:Jordi Palet i Puig
Assistant director and choreography:Montse Colomé
Performers: Pep Farrés and Jordi Farrés
Recorded performance:Judit Farrés
Music:Òscar Roig
Puppets and cartoons:Alfred Casas
Set design:Xavi Erra
Construction:Miquel Ruiz
Costumes:Nídia Tusal
Video: Alfonso Ferri
Lighting and technician:Roger Oriol
Executive production: Sylvie Lorente
Office: Maite Velàzquez
Scientific advice: Guillem Anglada, Serni Ribó and Aitor Auz
Children's voices: Júlia Guadayol, Martí Caraltó and Biel Pérez
Advice on DapoStar (acrobatic pizza): Genís Baulida
Coneix la companyia
Pep Farrés, Jordi Farres and Jordi Palet join efforts and skills to turn the whim of storytelling into a livelihood. Since 2002 we carry out, surrounded by junk, gestures, words and dolls. We like to touch issues untouched, so original and moralizing.