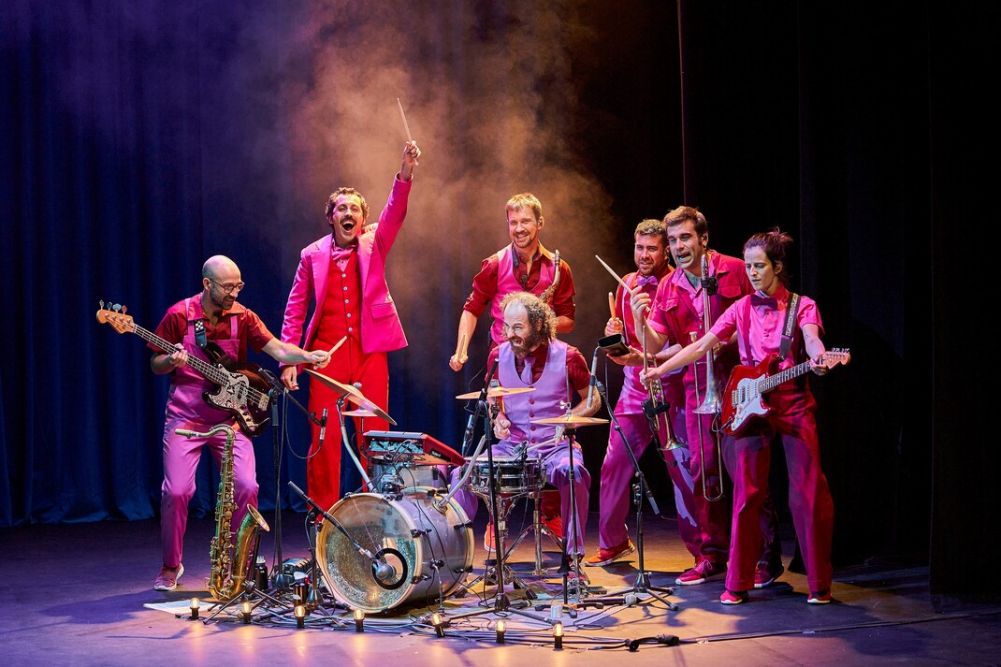 Guillem Albà and the six musicians of La Marabunta invite us to a party of comedy, rhythm and fun
After 7 years touring, Guillem Albà and the musicians of La Marabunta return to the stage with more desire than ever to share all their joy and energy.
A fun and provocative show to disconnect from the real world that will make everyone burst out laughing.
Join the party!
Free live streaming on the Mostra Igualada YouTube channel on the same day and time: Thursday May 27 at 20:00h.
Fitxa artística
Creation, direction and performer: Guillem Albà
Musicians: Edgar Gómez, Àlvar Monfort, Albert Comaleras, Martí Soler, Luisma Villegas and Irene Garcés
Musical direction: Albert Comaleras
Assistant director and stage manager: Sergio Martinez
Costumes:Nídia Tusal
Musical composition: Guillem Albà & La Marabunta
Movement: Ariadna Peya
Design and lighting technician: Ignatius Solé
Technical direction and sound technician : Ton Mentruit
Construction: Xavi Arbonès, L'Estaquirot Teatre
Production assistant: Berta García
Production management: Blai Rodriguez
Coneix la companyia
Motivated by the trajectory of his family, dedicated to the puppet theater, and with the eagerness of creating his own shows, the interpreter, director and creator Guillem Albà founded his company in 2006 in Vilanova i la Geltrú. Trained in different techniques and theatrical styles, he conceives his profession as craft work, cooked over low heat ans without haste.
He has premiered up to 7 creation shows: 'Sketchofrenia', 'Flirt', 'Trau', 'Marabunta', 'Pluja' (with Clara Peya), 'CALMA!' and recently 'Jaleiu'. Among the most outstanding recognitions there are two nominations at the Max Awards, the Audience Award at FiraTàrrega and the Audience and Innovation Award at the Fira de Titelles in Lleida. At the Mostra Igualada 2015 he won the Audience Award for the Best Show with 'Marabunta'. He has taken his creations to Peru, Argentina, Uruguay, China, Romania, France, Portugal, Sweden and the Azores Islands.