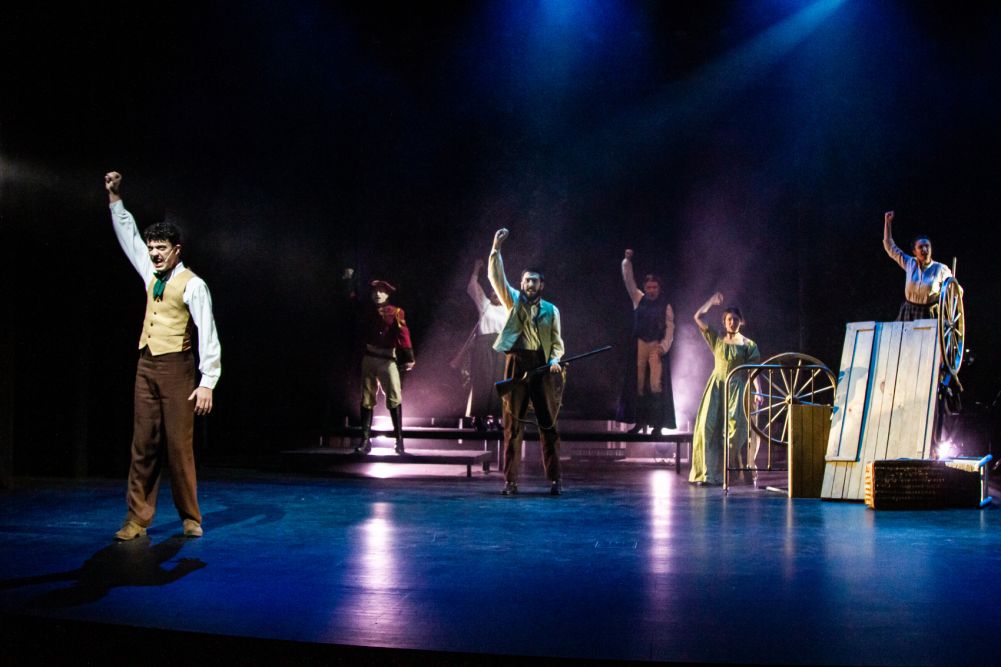 Antoni de Montpalau in search of a vampire. A journey from the depth of darkness, to the deepest feelings of the heart
1840. Antoni de Montpalau, a renowned naturalist scientist of the Barcelona bourgeoisie, will be pushed to solve the mystery of the deaths that plague the people of Pratdip and are attributed to the bloodthirsty vampire Onofre de Dip. Helped by his cousin, the captain of the navy, Isadora Novau, and by the brave young Agnès d'Urpí, Montpalau's firm rationalist principles will begin to crack.
Based on the vampire adventure novel by Joan Perucho, this adaptation focuses on the initiatory journey of the hero, Antoni de Montpalau, and the discovery of a world he thought impossible.
Attention!
This show won't take place in the city of Igualada, but in the Centre Polivalent de Can Papasseit in Vilanova del Camí.
Fitxa artística
Libretto: Silvia Navarro
Music and direction: Marc Sambola
Script and direction: Miquel Agell
Performers: Àfrica Alonso, Ester Bartomeu, Roger Berruezo, Clàudia Codony, Eloi Gómez, Marc Pujol , Carla Pueyo and Gerard Rodríguez
Musicians: Gerard Alonso, Jordi Costa and Monchu López
Choreography: Montse Colomé
Scenography: Eloi Linuesa
Costume: Núria Milà
Lighting: Daniel Gener
Sound: Jaume Edo
Dialectologist: Pere Navarro
Assistant Director: Pasquale Bavaro
Executive production: Lydia Linuesa
Coneix la companyia
Lazzigags Produccions is a company and school of theater and performing arts created in 1999 by Lídia Linuesa and Miquel Agell. Based in the Sants district of Barcelona, its main activities are the production of shows for a family and adult audience through Lazzigags Produccions and the training of the performing arts, professional and non-professional, at the Espai Lazzigags school and education centres (Teatre a les Escoles).
Since the premiere at Jove Teatre Regina of its first musical 'Supertot' by Josep M. Benet i Jornet, they have produced more than 20 shows. Highlights include 'Pippi Langstrump' with more than 10 years on the bill, and 'Tom Sawyer detectiu', active since 2014, which won the 2015 Premios del Teatro for Best Children's Musical.