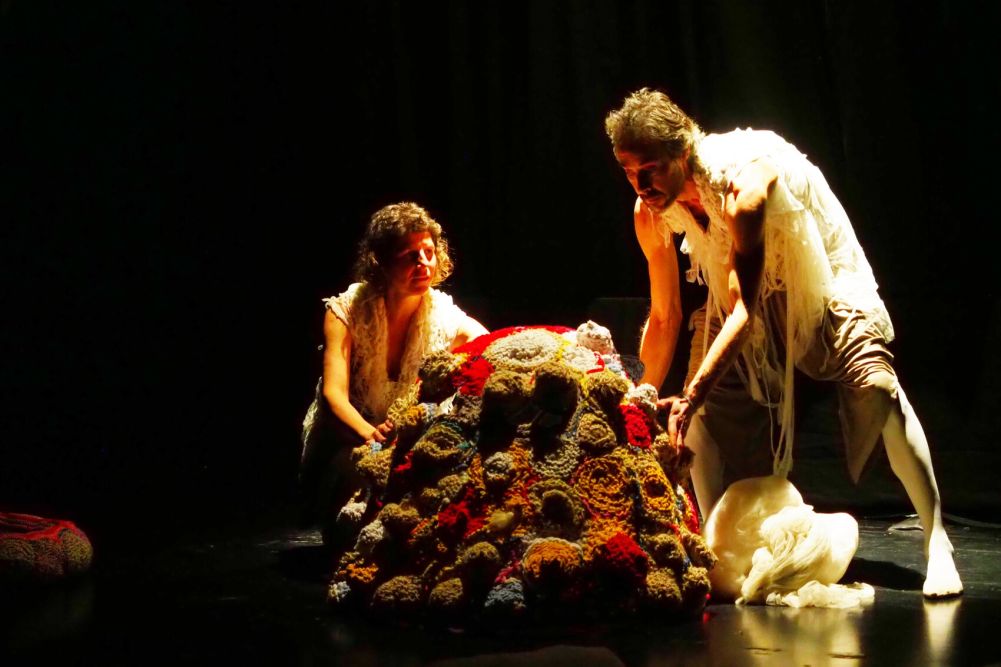 Show for babies with live music, where families and artists perform together by moving freely and touching the props
'Nius' is an invitation for the whole family to experience art with the five senses.
It is a performance dedicated to the unique moment of the first 18 months of life. It is an interactive show for babies, exquisite audience, in a calm and secure place, full of beauty, music, smells, colours and textures.
The artists sing, play instruments, dance, play and interact with the stage set whilst inviting the young and adult audience to be the protagonists of the show, by singing, enjoying the music and discovering the place.
Fitxa artística
Original idea and direction: Helena Cabo
Performers and musicians: Helena Cabo and Pablo Arias
Musical creation: original songs by Helena Cabo with arrangements and instrumentation by Pablo Arias, Guillem Aguilar and Xavi Lozano.
Movement: Helena Cabo, Pablo Arias and Anna Català
Artistic support: Cristina Martí and Toni Viñals
Scenography: based on the work of Eva Vázquez
Made by: Eva Vázquez, Helena Cabo, Ángela Peinado and fathers and mothers serving of a sentence of deprivation of liberty at Brians 2 and Wad Ras Prisons
Costumes: Natalie Capell
Sound and lighting: Dani Sanchez
Photography: Barbara Viader
Video: Marc Pisa
Communication: Helena Cabo, Anna Vila and Laia Lorente
Co-produced by: CreaMoviment – El Més Petit de Tots
Coneix la companyia
Multidisciplinary artistic collective born in Barcelona in 2012. CreaMoviment wants to scape from globalization that depersonalizes, labels, encompasses, minimizes and nullifies personal-individual wealth. They search authenticity in individual and group action and movement, in doing, in transformation, in manipulation.
Their shows are conceived and created as generators of experiences, always from a respectful perspective with the vital processes of children and adults.