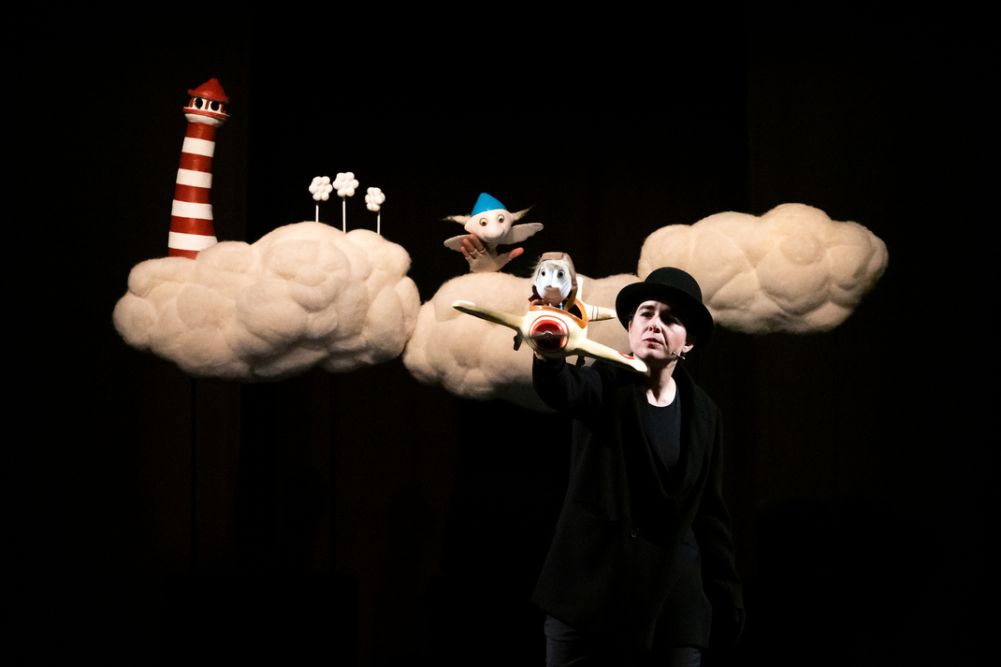 A poetic game about the idea of ​​romantic love that is transmitted to us from the earliest childhood
Luz is a magical being who lives in the clouds One day, an aviator crashes into her cloud and Luz gives him her wings so that he can return to fly. From that moment on, Luz will no longer be able to fly and will eventually fall to Earth.
Inspired by the story of 'The Little Mermaid', this show tells us, from humor and love, what we are capable of doing to love and be loved.
In 2020 it received the Award for Best Puppet and Object Show at FETEN and Children's Jury Award for Best Show at the International Puppet Festival "Festitíteres" of Alicante.
Fitxa artística
Authors: Mariso García and Juan Manuel Quiñonero
Puppeters: Iris Pascual and Mariso García
Stage direction: Mariso García and Juan Manuel Quiñonero
Script: Dora Cantero
Scenography: Juan Manuel Quiñonero, Cristian Weidmann, Fabián Huertes, Alberto Sánchez and Tamaki Yang
Puppet construction: Juan Manuel Quiñonero and Cristian Weidmann
Music: Pedro Guirao
Technical staff: Juan Manuel Quiñonero and Octavio Gómez
Production and distribution: Periferia Teatro
Coneix la companyia
Professionally dedicated to the puppet theater since 1989, Periferia Teatro is founded by Juan Manuel Quiñonero Redondo and Mariso García Ferrández, who simultaneously share acting and directing tasks. They have created and told stories with puppets using very diverse techniques, showing that this genre is still more alive than ever and that it is an excellent means to reach directly the soul of the spectator, both children and adults who accompany them.
The company is activeluy engaged in the study and research of puppet theater, looking for new forms of communication in each new show.