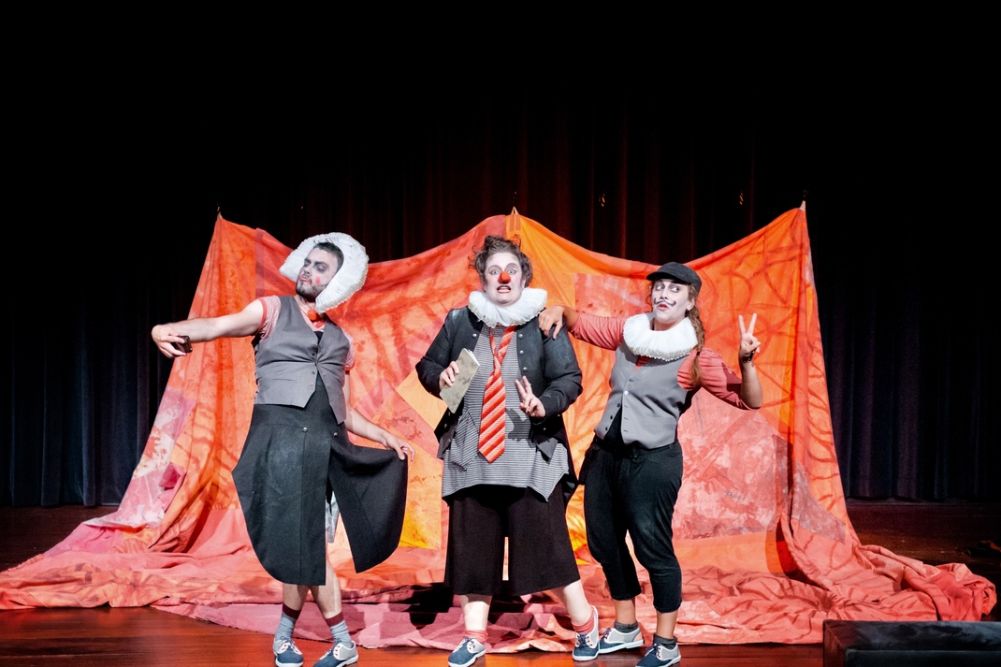 A Shakespearian musical comedy for children with a tongue-in-cheek look at what it means to be human
Three fools –Pimple, Feste and Ravenous– meet at night in a solitary place to rehearse a tragedy written by Will, the fourth member of the troupe, who still has not arrived. While they wait for him, they reflect on the most profound questions about existence, painting a picture of the human condition through music, wit and metatheater.
There will also be some dances to prove that, at the end of the day, life is but a wonderful comedy!
Fitxa artística
Dramaturgy and lyrics: Rubèn Montañá and Toni Sans
Music: G. Verdi, W.A. Mozart, P. Attaignant, C.O.Nicolai, Ch.Gounod, O. di Lasso and A. Thomas
Stage direction and choreography: Toni Sans
Musical direction, arrangements and recording of musical accompaniments: Albert Mora
Performers: Anna Alborch, Rubèn Montañá and Maria Santallusia
Scenography and props: EGOS petits and Xavi Erra
Lighting: Jordi Pérez (Lightin Lab)
Characterization: EGOS petits
Costumes: Maria Santallusia
Graphic design: Ruben Montañá
Photography: Cathy Loughran
Production: Egos Produccions
With the support of Ateneu El Poblet
Coneix la companyia
Egos Petits is the family-oriented theatre company born out of Egos Theater. 'Fearless John' was their first production, co-produced with the Lleida Centre for Puppetry, and which received numerous awards: Caixa de Catalunya Award in Mostra Igualada 2009; two Dracs d'Or at the 20th Lleida Puppetry Festival; and Best Show Award at the Vall d'Albaida International Puppetry Festival.