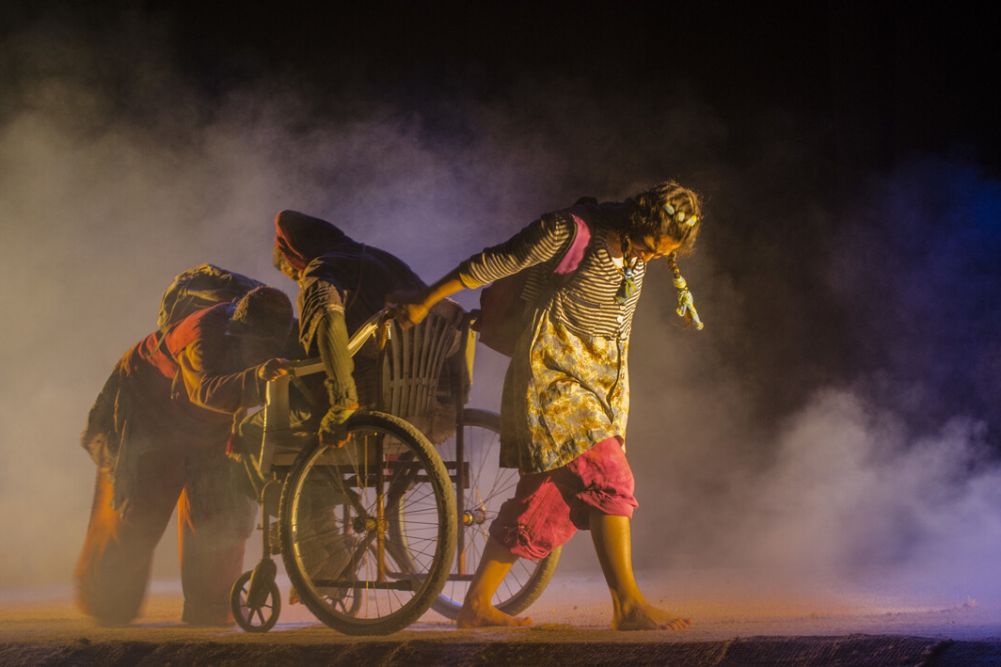 The extraordinary story of three sisters who overcome all barriers and fight to learn every day
"On the way to school" shows the extraordinary story of three sisters who have to face daily adversities and dangers to get to school. Three sisters, a daily travel and a goal: to have the future in their hands. Three girls who live in a far country and represent the true story of thousands of children around the world. Determined, autonomous and capable children who share the desire to learn and are aware that only education will open the doors to a better future.
Attention!
This show won't take place in the city of Igualada, but in the Centre Polivalent de Can Papasseit in Vilanova del Camí.
Fitxa artística
Artistic direction: Rosa Diaz
Creation assessor: Jordi Farrés
Music: Pascal Gaigne
Scenography: Joan Pena
Light design: Marc Espinosa, Miki Arbizu
Costume: Rosa Solé
Performers: Aitana Giralt, Cristina Garcia, Alícia Buil i Jordi Pedrós
Stage manager: Marc Cartanyà
This show has been awarded the "XXIII Premis de la crítica d'arts escèniques" in the category "Best performing arts for children show 2020".
Coneix la companyia
Campi Qui Pugui was born in 2008. They create theatre shows through the emotions, using humor and visual resources understandable by people from all ages and cultures. They wish to wake up the inner child we all have. They have performed in more than 15 countries, as Australia, Canada, China, South Korea, Denmark, United Kingdom and Germany.